Dividend Growth Investing & Retirement is supported by its readers through donations and affiliate links. If you purchase through a link on my site, I may earn a commission. Thanks! Learn more.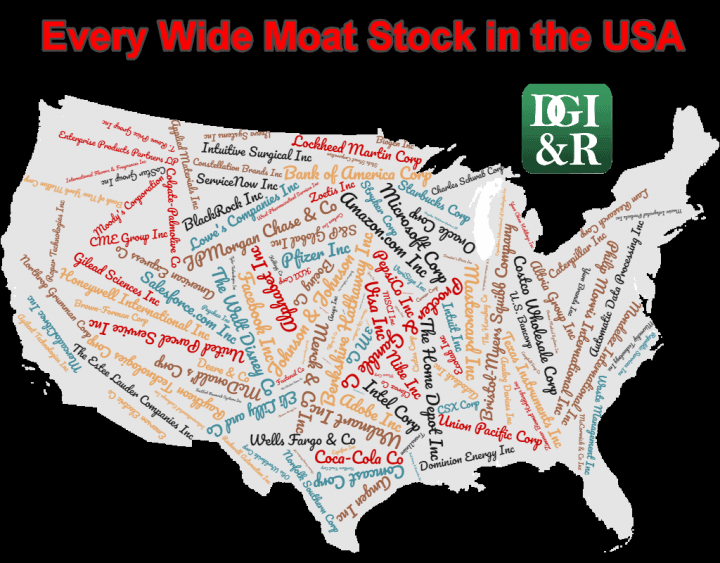 Wide moat companies are a natural starting point for investors looking for high-quality stocks.
To help with this search, I used Morningstar to find all US wide moat stocks.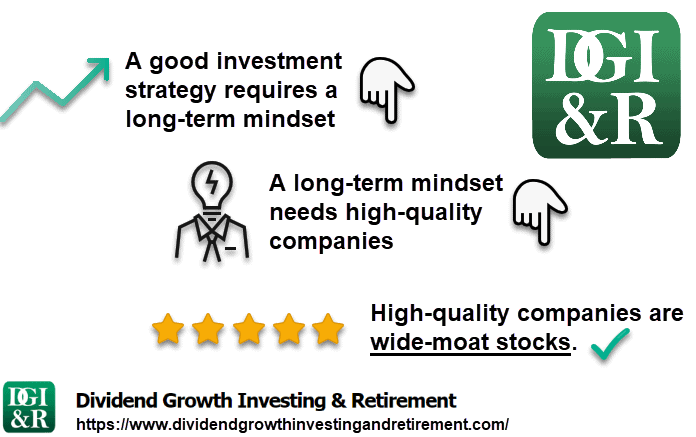 This article is the 3rd in a series of wide moat articles: 
Ok, let's get back to the results. Keep reading to see the list of every wide moat stock in the USA. 
137 US Wide Moat Stocks from Morningstar Analyst Ratings
Drum roll, please…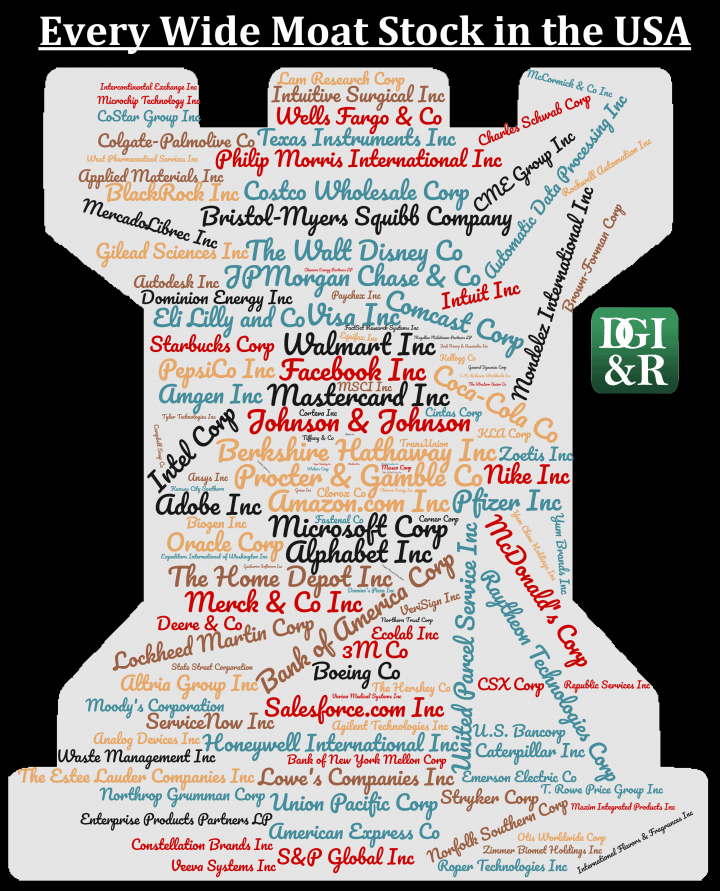 Wow, 137 companies. 
Remember, this is every wide moat company and not all of them pay a dividend.
Here's the list:
As of September 2020
3M Co (NYSE:MMM)
Adobe Inc (NASDAQ:ADBE)
Agilent Technologies Inc (NYSE:A)
Alphabet Inc (NASDAQ:GOOG; NASDAQ:GOOGL)
Altria Group Inc (NYSE:MO)
Amazon.com, Inc (NASDAQ:AMZN)
American Express Co (NYSE:AXP)
Amgen Inc (NASDAQ:AMGN)
Analog Devices Inc (NASDAQ:ADI)
Ansys Inc (NASDAQ:ANSS)
Applied Materials Inc (NASDAQ:AMAT)
Aspen Technology Inc (NASDAQ:AZPN)
Autodesk Inc (NASDAQ:ADSK)
Automatic Data Processing Inc (NASDAQ:ADP)
Bank of America Corp (NYSE:BAC)
Bank of New York Mellon Corp (NYSE:BK)
Berkshire Hathaway Inc (NYSE:BRK.A; NYSE:BRK.B)
Biogen Inc (NASDAQ:BIIB)
Blackbaud Inc (NASDAQ:BLKB)
BlackRock Inc (NYSE:BLKB)
Boeing Co (NYSE:BA)
Bristol-Myers Squibb Company (NYSE:BMY)
Brown-Forman Corp (NYSE:BF.B; NYSE:BF.A)
CH. Robinson Worldwide Inc (NASDAQ:CHRW)
Campbell Soup Co (NYSE:CPB)
Caterpillar Inc (NYSE:CAT)
Cerner Corp (NASDAQ:CERN)
Charles Schwab Corp (NYSE:SCHW)
Cheniere Energy Inc (NYSE:LNG)
Cheniere Energy Partners LP (NYSE:CQP)
Cintas Corp (NASDAQ:CTAS)
Clorox Co (NYSE:CLX)
CME Group Inc Class A (NASDAQ:CME)
Coca-Cola Co (NYSE:KO)
Colgate-Palmolive Co (NYSE:CLX)
Comcast Corp (NASDAQ:CMCSA)
Compass Minerals International (NYSE:CMP)
Constellation Brands Inc (NYSE:STZ; NYSE:STZ.B)
Corteva Inc (NYSE:CTVANASDAQ:CTVA)
CoStar Group Inc (NASDAQ:CSGP)
Costco Wholesale Corp (NASDAQ:COST)
CSX Corp (NASDAQ:CSX)
Deere & Co (NYSE:DE)
Dominion Energy Inc (NYSE:D)
Domino's Pizza Inc (NYSE:DPZ)
Ecolab Inc (NYSE:ECL)
Eli Lilly and Co (NYSE:LLY)
Emerson Electric Co (NYSE:EMR)
Enterprise Products Partners LP (NYSE:EPD)
Equifax Inc (NYSE:EFX)
Expeditors International of Washington Inc (NASDAQ:EXPD)
Facebook Inc (NASDAQ:FB)
FactSet Research Systems Inc (NYSE:FDS)
Fastenal Co (NASDAQ:FAST)
General Dynamics Corp (NYSE:GD)
Gilead Sciences Inc (NASDAQ:GILD)
Graco Inc (NYSE:GGG)
Guidewire Software Inc (NYSE:GWRE)
Harley-Davidson Inc (NYSE:HOG)
Honeywell International Inc (NYSE:HON)
Intel Corp (NASDAQ:INTC)
Intercontinental Exchange Inc (NYSE:ICE)
International Flavors & Fragrances Inc (NYSE:IFF)
Intuit Inc (NASDAQ:INTU)
Intuitive Surgical Inc (NASDAQ:ISRG)
Jack Henry & Associates Inc (NASDAQ:JKHY)
John Wiley & Sons Inc (NYSE:JW.A; NYSE:JW.B)
Johnson & Johnson (NYSE:JNJ)
JPMorgan Chase & Co (NYSE:JPM)
Kansas City Southern (NYSE:KSU)
Kellogg Co (NYSE:K)
KLA Corp (NASDAQ:KLAC)
Lam Research Corp (NASDAQ:LRCX)
Landstar System Inc (NASDAQ:LSTR)
Lockheed Martin Corp (NYSE:LMT)
Lowe's Companies Inc (NYSE:LOW)
Magellan Midstream Partners LP (NYSE:MMP)
Masco Corp (NYSE:MAS)
Mastercard Inc (NYSE:MA)
Maxim Integrated Products Inc (NASDAQ:MXIM)
McCormick & Co Inc (NYSE:MKC; NYSE:MKC.V)
McDonald's Corp (NYSE:MCD)
MercadoLibrec Inc (NASDAQ:MELI)
Merck & Co Inc (NYSE:MRK)
Microchip Technology Inc (NASDAQ:MCHP)
Microsoft Corp (NASDAQ:MSFT)
Mondelez International Inc (NASDAQ:MDLZ)
Moody's Corporation (NYSE:MCO)
MSCI Inc (NYSE:MSCI)
Nike Inc (NYSE:NKE)
Norfolk Southern Corp (NYSE:NSC)
Northern Trust Corp (NASDAQ:NTRS)
Northrop Grumman Corp (NYSE:NOC)
Oracle Corp (NYSE:ORCL)
Otis Worldwide Corp (NYSE:OTIS)
Paychex Inc (NASDAQ:PAYX)
PepsiCo Inc (NASDAQ:PEP)
Pfizer Inc (NYSE:PFE)
Philip Morris International In (NYSE:PM)
Polaris Inc (NYSE:PII)
Procter & Gamble Co (NYSE:PG)
Raytheon Technologies Corp (NYSE:RTX)
Republic Services Inc Class A (NYSE:RSG)
Rockwell Automation Inc (NYSE:ROK)
Roper Technologies Inc (NYSE:ROP)
S&P Global Inc (NYSE:SPGI)
Salesforce.com Inc (NYSE:CRM)
ServiceNow Inc (NYSE:NOW)
Starbucks Corp (NASDAQ:SBUX)
State Street Corporation (NYSE:STT)
Stryker Corp (NYSE:SYK)
T Rowe Price Group Inc (NASDAQ:TROW)
Texas Instruments Inc (NASDAQ:TXN)
The Estee Lauder Companies Inc (NYSE:EL)
The Hershey Co (NYSE:HSY)
The Home Depot Inc (NYSE:HD)
The Walt Disney Co (NYSE:DIS)
The Western Union Co (NYSE:WU)
Tiffany & Co (NYSE:TIF)
TransUnion (NYSE:TRU)
Tyler Technologies Inc (NYSE:TYL)
US. Bancorp (NYSE:USB)
Union Pacific Corp (NYSE:UNP)
United Parcel Service Inc (NYSE:UPS)
Varian Medical Systems Inc (NYSE:VAR)
Veeva Systems Inc (NYSE:VEEV)
VeriSign Inc (NASDAQ:VRSN)
Visa Inc (NYSE:V)
Walmart Inc (NYSE:WMT)
Waste Management Inc (NYSE:WM)
Waters Corp (NYSE:WAT)
Wells Fargo & Co (NYSE:WFC)
West Pharmaceutical Services Inc (NYSE:WST)
Yum Brands Inc (NYSE:YUM)
Yum China Holdings Inc (NYSE:YUMC)
Zimmer Biomet Holdings Inc (NYSE:ZBH)
Zoetis Inc (NASDAQ:ZTS)
And there you have it, every wide moat stock in the US. 
But not so fast …
There are an additional 50 stocks that have a wide moat quantitative rating vs. a wide moat rating made by a real person (an analyst), like the ones above. 
Before I share these last 50 stocks, I have a few words of caution. Well, maybe more than a few …
265 Words Of Caution on Wide Moat
Quantitative
Ratings
When trying to determine if a company has a wide moat, a quantitative rating is less reliable than a rating made by an analyst.
For stocks that aren't covered by Morningstar analysts they give a quantitative rating – basically a computer formula figures it out instead of a person. 
Or as Morningstar puts it:
"Morningstar Quantitative ratings for equities are generated using an algorithm that compares companies that are not under analyst coverage to peer companies that do receive analyst-driven ratings. Companies with ratings are not formally covered by a Morningstar analyst, but are statistically matched to analyst-rated companies, allowing our models to calculate a quantitative moat, fair value, and uncertainty rating."
Quantitative ratings are good for some things, but understanding a company's competitive advantages and how sustainable they are, isn't necessarily one of them. 
Warren Buffett said in the 1999 Berkshire Hathaway annual meeting that (emphasis added):
"No formula in finance tells you that the moat is 28 feet wide and 16 feet deep. That's what drives the academics crazy. They can compute standard deviations and betas, but they can't understand moats. Maybe I'm being too hard on the academics."
I think this comment still holds true and who am I to argue with one of the greatest investors of all-time. 
If Warren Buffett thinks understanding a moat is difficult for academics used to creating a formula for everything, then I don't think quantitative moat ratings are going to be as reliable as the analyst ones.
Bottom line: I put more weight in the Morningstar moat ratings that are made by analysts compared to the quantitative ratings.
50 US Wide Moat Stocks From Morningstar
Quantitative
Ratings
OK, now that I've got my warning out of the way, here are the remaining wide moat stocks using Morningstar's quantitative ratings.
As of September 2020
A.O. Smith Corp (NYSE:AOS)
AAON Inc (NASDAQ:AAON)
Abiomed Inc (NASDAQ:ABMD)
Armstrong World Industries Inc (NYSE:AWI)
Artisan Partners Asset Management Inc (NYSE:APAM)
Badger Meter Inc (NYSE:BMI)
Booz Allen Hamilton Holding Corporation (NYSE:BAH)
Brown & Brown Inc (NYSE:BRO)
BWX Technologies Inc (NYSE:BWXT)
Cable One Inc (NYSE:CABO)
Casella Waste Systems Inc Class A (NASDAQ:CWST)
CDK Global Inc (NASDAQ:CDK)
Chemed Corp (NYSE:CHE)
Copart Inc (NASDAQ:CPRT)
EPAM Systems Inc (NYSE:EPAM)
Erie Indemnity Co (NASDAQ:ERIE)
Exponent Inc (NASDAQ:EXPO)
Fair Isaac Corp (NYSE:FICO)
Fleetcor Technologies Inc (NYSE:FLT)
Generac Holdings Inc (NYSE:GNRC)
Hamilton Lane Inc Class A (NASDAQ:HLNE)
Heico Corp (NYSE:HEI; NYSE:HEI.A)
IAA Inc (NYSE:IAA)
Innovative Holdings Alliance Inc (OTC:IHAI)
Interactive Brokers Group Inc (NASDAQ:IBKR)
International Monetary Systems (OTC:ITNM)
MarketAxess Holdings Inc (NASDAQ:MKTX)
MSA Safety Inc (NYSE:MSA)
Neurocrine Biosciences Inc (NASDAQ:NBIX)
NVR Inc (NYSE:NVR)
PJT Partners Inc Class A (NYSE:PJT)
Pool Corp (NASDAQ:POOL)
Proto Labs Inc (NYSE:PRLB)
Qualys Inc (NASDAQ:QLYS)
ResMed Inc (NYSE:RMD)
Rollins Inc (NYSE:ROL)
SelectQuote Inc (NYSE:SLQT)
Simpson Manufacturing Co Inc (NYSE:SSD)
SiteOne Landscape Supply Inc (NYSE:SITE)
Southern Copper Corp (NYSE:SCCO)
Sturm Ruger & Co Inc (NYSE:RGR)
Teleflex Inc (NYSE:TFX)
Teradyne Inc (NASDAQ:TER)
The Toro Co (NYSE:TTC)
TransDigm Group Inc (NYSE:TDG)
Trex Co Inc (NYSE:TREX)
Ubiquiti Inc (NYSE:UI)
Vail Resorts Inc (NYSE:MTN)
Verisk Analytics Inc (NASDAQ:VRSK)
Watsco Inc (NYSE:WSO; NYSE:WSO.B)
Some Surprises That Didn't Make The List (Utilities, Telecoms & Dividend Kings)
If you were surprised that a company didn't make it on to the wide moat list, it's likely because Morningstar has it rated as narrow-moat instead of wide.
Narrow moat companies aren't expected to be able to maintain their competitive advantages as long as wide moat companies.
The wide, narrow and no-moat ratings reflect how sustainable a competitive advantage is. 
Wide moat = +20 years
Narrow moat = 10-19 years
No moat = 0-9 years
Now onto my first surprise, utilities.
Utilities
With the exception of Dominion Energy, you'll notice that there are no other utility wide moat stocks.
I discovered that…
Most utility companies are considered narrow-moat stocks. 
The narrow-moat comes from regulated operations in service territory monopolies and efficient scale advantages.
It turns out that regulation for the public good typically prevents them from reaching a wide moat rating, but at the same time these regulations also help maintain a narrow-moat.
Here's an excerpt from Morningstar's analyst Andrew Bischof in his August 10, 2020 report on the narrow moat Duke Energy Corp (NYSE:DUK) that explains it well:
"The risk of adverse regulatory decisions precludes regulated utilities from earning wide economic moat ratings. However, the threat of material value destruction is low, and normalized returns exceed costs of capital in most cases, leaving us comfortable assigning narrow moats to many regulated utilities."
Even though most utility stocks don't have a wide-moat, I still consider a lot of them high-quality. Companies in the utility sector, like consumer staples and healthcare, are generally thought to be more recession-proof than other sectors.
Despite the narrow-moat ratings, utility stocks can make good dividend growth stocks. 
The regulated nature of utilities provides more predictable and stable earnings and cash flows. This can lead to long dividend growth streaks (consecutive years of dividend growth).
32 Narrow Moat Dividend Growth Utility Stocks
Here are some US dividend growth utility stocks that have narrow moats:
As of September 2020, stocks below have a dividend streak of 10 years or more and a narrow moat.
ALLETE Inc (NYSE:ALE) [Quantitative Narrow Moat Rating]
Alliant Energy Corp (NASDAQ:LNT)
American Electric Power Co (NYSE:AEP)
American States Water Co (NYSE:AWR) [Quantitative Narrow Moat Rating]
American Water Works Co (NYSE:AWK)
Artesian Resources Corp (NASDAQ:ARTNA) [Quantitative Narrow Moat Rating]
Atmos Energy Corp (NYSE:ATO)
Avista Corp (NYSE:AVA) [Quantitative Narrow Moat Rating]
Black Hills Corp (NYSE:BKH) [Quantitative Narrow Moat Rating]
California Water Service Group (NYSE:CWT) [Quantitative Narrow Moat Rating]
Chesapeake Utilities Corp (NYSE:CPK) [Quantitative Narrow Moat Rating]
CMS Energy Corp (NYSE:CMS)
DTE Energy Co (NYSE:DTE)
Duke Energy Corp (NYSE:DUK)
Edison International (NYSE:EIX)
Evergy Inc (NYSE:EVRG)
MGE Energy Inc (NASDAQ:MGEE) [Quantitative Narrow Moat Rating]
Middlesex Water Co (NASDAQ:MSEX) [Quantitative Narrow Moat Rating]
New Jersey Resources Corp (NYSE:NJR)
NextEra Energy Inc (NYSE:NEE)
NorthWestern Corp (NYSE:NWE) [Quantitative Narrow Moat Rating]
Portland General Electric Co (NYSE:POR)
PPL Corp (NYSE:PPL)
Sempra Energy (NYSE:SRE)
SJW Group (NYSE:SJW) [Quantitative Narrow Moat Rating]
Southern Co (NYSE:SO)
Southwest Gas Holdings Inc (NYSE:SWX) [Quantitative Narrow Moat Rating]
Spire Inc (NYSE:SR) [Quantitative Narrow Moat Rating]
The York Water Co (NASDAQ:YORW) [Quantitative Narrow Moat Rating]
UGI Corp (NYSE:UGI) [Quantitative Narrow Moat Rating]
WEC Energy Group Inc (NYSE:WEC)
Xcel Energy Inc (NASDAQ:XEL)
Telecoms
Over 90% of the US wireless market share comes from three companies: AT&T (NYSE:T), T-Mobile (NYSE:TMUS), and Verizon Communications Inc (NYSE:VZ).
It's natural to wonder why at least one of these companies wouldn't be considered a wide moat stock. 
Instead, Morningstar has AT&T and Verizon rated as narrow-moat stocks and T-Mobile has a no-moat rating.
The industry requires significant upfront fixed costs which can limit new competitors, but the existing competition between these three companies is quite fierce so none of them gets the coveted wide moat rating.
Dividend Kings (50+ Years of Dividend Increases)
Dividend Kings are companies that have been able to increase their dividends for 50+ years in a row.
Any company that can pay increasing dividends, each year, for half a century is pretty spectacular.
You'd think that most of these companies would have wide moats, so I was surprised to find out that only…
28% of Dividend Kings have Wide Moats.
Plus 4 of Dividend Kings have no moat.
Here's the breakdown:
And here's the table so you can see which ratings come from analysts vs. quantitatively:
Half a century's worth of dividend increases is certainly a good indicator of a high-quality dividend growth stock, but it doesn't necessarily mean the company has a strong moat.
When assessing the quality of a company, try to look at a number of different factors (dividend streak, moat rating, debt/credit ratings, financial strength metrics, dividend safety, etc.) for a better overall assessment.
If you want to learn more about Dividend Kings, Sure Dividend has a good article summarizing them that also has a spreadsheet download of all the Dividend Kings.
3 Additional Resources
Besides the other articles in my wide moat series, here are three additional resources you might find helpful.
1. Morningstar Wide Moat ETFs
VanEck has an ETF that tracks the Morningstar® Wide Moat Focus Index (MWMFTR). This index uses Morningstar fair value estimates to find the most undervalued US wide moat stocks.
Check out the holdings of the MOAT – Morningstar Wide Moat ETF Holdings to find undervalued US wide moat stocks.
The link above is geared towards US investors. After you click the link they may ask you which country you are from. If they do, select US. If you don't select US, the link might not work.
Look for the "Download All Holdings" link to get a spreadsheet of all the current holdings.
2. US Dividend Champions List
A long dividend streak doesn't necessarily mean the company has a wide or narrow moat, but it can be an indication of a high-quality company.
The US Dividend Champions List is a free excel spreadsheet with stock information on US companies that have either increased or maintained their dividend for 5+ years in a row.
Champions have 25+ year dividend streaks, Contenders have 10-24 year dividend streaks, and Challengers have 5-9 year dividend streaks.
The spreadsheet was created in 2008 by Dave Fish (deceased 2018), and is now updated monthly by Justin Law.
3. Morningstar
I used Morningstar's moat ratings for this article, so check your online broker for Morningstar access. Most Canadian brokers provide it free. 
For a list of Canadian brokers that provide Morningstar access as well as some other ways to get Morningstar free, check out the details in my upcoming article: 3 Ways to Find Wide Moat Stocks – Coming December 1, 2020.
Summary
I used Morningstar to find all wide moat stocks in the USA.
They provide two types of moat ratings: 
Analyst (real person) ratings, and 

Quantitative ratings (a computer formula figures it out instead of a person).
The quantitative ratings are less reliable than the analyst ratings.
Starting with 3M Co and ending with Zoetis Inc I listed off all 137 wide moat companies from Morningstar analyst ratings. 
There were an additional 50 wide moat quantitative ratings. (These are the less reliable ones)
There were a few surprises. The Dividend Kings had less wide moat ratings than I was expecting, and regulated utility stocks were predominantly rated narrow-moat. 
Were you surprised by any companies that didn't make the wide moat list?
PS. Don't forget to check out my other wide moat articles:
Newsletter Sign-Up & Bonus
Have you enjoyed our content?
Then subscribe to our newsletter and you'll be emailed more great content from Dividend Growth Investing & Retirement (DGI&R).
BONUS: Subscribe today and you'll be emailed the most recent version of the Canadian Dividend All-Star List (CDASL).
The CDASL is an excel spreadsheet with an abundance of useful dividend screening information on Canadian companies that have increased their dividend for five or more years in a row.

The CDASL is one of the most popular resources that DGI&R offers so don't miss out!