Dividend Growth Investing & Retirement is supported by its readers through donations and affiliate links. If you purchase through a link on my site, I may earn a commission. Thanks! Learn more.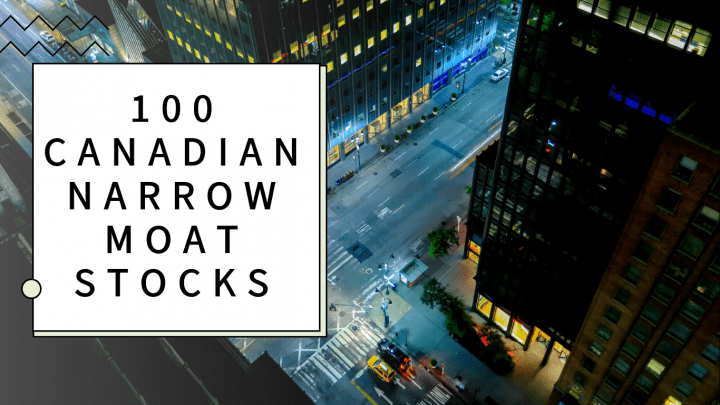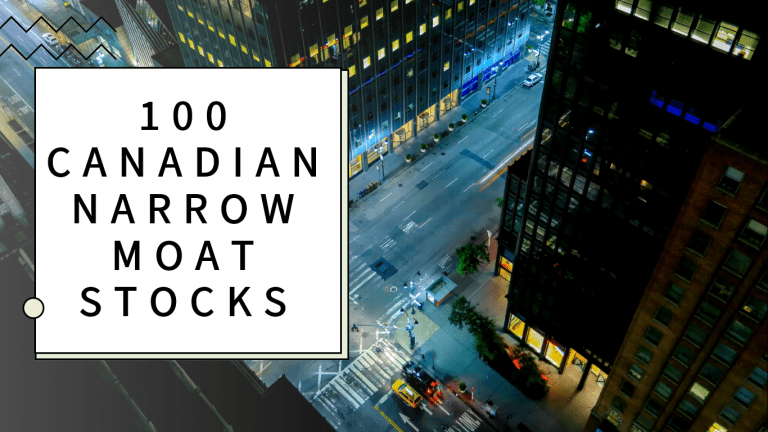 With only 9 wide moat stocks in Canada, narrow moat stocks are a necessary concession for anyone looking to build a diversified portfolio.
Now a narrow moat might not be as good as a wide moat, but narrow moat companies are still expected to maintain their competitive advantages for 10-20 years. 
Not as long as the 20+ years you get with a wide moat stock, but still very good and definitely worthy of your consideration.
To help you on your hunt for high-quality stocks, I used Morningstar to find all 100 Canadian narrow moat stocks.
25 Canadian Narrow Moat Stocks from Morningstar Analyst Ratings
Here's the list of every analyst-rated narrow moat stock in Canada:
As of November 2020 (Sorted alphabetically)
Bank of Montreal (TSE:BMO) 
Bank of Nova Scotia (TSE:BNS) 
BCE Inc (TSE:BCE) 
BRP Inc (TSE:DOO) 
Cameco Corp (TSE:CCO) 
Canadian Imperial Bank of Commerce (TSE:CM) 
CGI Inc (TSE:GIB.A) 
CI Financial Corp (TSE:CIX) 
Emera Inc (TSE:EMA) 
Fortis Inc (TSE:FTS) 
IGM Financial Inc (TSE:IGM) 
IMAX Corp (NYSE:IMAX) 
National Bank of Canada (TSE:NA) 
Nutrien Ltd (TSE:NTR) 
Pembina Pipeline Corp (TSE:PPL) 
Restaurant Brands International Inc (TSE:QSR) 
Ritchie Bros Auctioneers Inc (TSE:RBA) 
Rogers Communications Inc (TSE:RCI.B) 
Saputo Inc (TSE:SAP) 
Shaw Communications Inc (TSE:SJR.B) 
Shopify Inc (TSE:SHOP) 
TC Energy Corp (TSE:TRP) 
TELUS Corp (TSE:T) 
The Descartes Systems Group Inc (TSE:DSG) 
Thomson Reuters Corp (TSE:TRI) 
And there you have it, every Morningstar analyst rated Narrow moat stock in Canada. 
Some well-known banks, utilities, and telecoms jump out at me when I scroll through the list.
Here's a table with a bit more detail on each company for you to pick through.
But I thought you said there were 100 narrow moat stocks? There are only 25 in the list above, what the heck?
Well, the other 75 stocks have a quantitative narrow moat rating vs. a Narrow moat rating made by a real person (an analyst), like the 25 stocks above. 
Before I share these last 75 stocks, I have a few words of caution. Well, maybe more than a few …
265 Words Of Caution on Narrow Moat Quantitative Ratings
When trying to determine if a company has a Narrow moat, a quantitative rating is less reliable than a rating made by an analyst.
For stocks that aren't covered by Morningstar analysts they give a quantitative rating – basically a computer formula figures it out instead of a person. 
Or as Morningstar puts it:
"Morningstar Quantitative ratings for equities are generated using an algorithm that compares companies that are not under analyst coverage to peer companies that do receive analyst-driven ratings. Companies with ratings are not formally covered by a Morningstar analyst, but are statistically matched to analyst-rated companies, allowing our models to calculate a quantitative moat, fair value, and uncertainty rating."
Quantitative ratings are good for some things, but understanding a company's competitive advantages and how sustainable they are, isn't necessarily one of them. 
Warren Buffett said in the 1999 Berkshire Hathaway annual meeting that (emphasis added):
No formula in finance tells you that the moat is 28 feet Narrow and 16 feet deep. That's what drives the academics crazy.

They can compute standard deviations and betas, but they can't understand moats.

Maybe I'm being too hard on the academics.
I think this comment still holds true and who am I to argue with one of the greatest investors of all-time. 
If Warren Buffett thinks understanding a moat is difficult for academics used to creating a formula for everything, then I don't think quantitative moat ratings are going to be as reliable as the analyst ones.
Bottom line: I put more weight in the Morningstar moat ratings that are made by analysts compared to the quantitative ratings.
75 Canadian Narrow Moat Stocks From Morningstar Quantitative Ratings
OK, now that I've got my warning out of the way, here are the remaining 75 Canadian narrow moat stocks using Morningstar's quantitative ratings.
As of November 2020 (Sorted Alphabetically)
Absolute Software Corp (TSE:ABST)
Africa Oil Corp (TSE:AOI)
Algonquin Power & Utilities Corp (TSE:AQN)
Alimentation Couche-Tard Inc (TSE:ATD.B)
ATS Automation (TSE:ATA)
Badger Daylighting Ltd (TSE:BAD)
Boralex Inc (TSE:BLX)
Boyd Group Services Inc (TSE:BYD)
Brookfield Asset Management Inc (TSE:BAM.A)
Brookfield Infrastructure Corporation (TSE:BIPC)
Brookfield Infrastructure Partners LP (TSE:BIP.UN)
Brookfield Renewable Corporation (TSE:BEPC)
Brookfield Renewable Partners LP (TSE:BEP.UN)
Cae Inc (TSE:CAE)
Calian Group Ltd (TSE:CGY)
Canacol Energy Ltd (TSE:CNE)
Canada Goose Holdings Inc (TSE:GOOS)
Canadian Utilities Ltd (TSE:CU)
Capital Power Corp (TSE:CPX)
Caribbean Utilities Co Ltd (TSE:CUP.U)
Champion Iron Limited (TSE:CIA)
Colliers International Group Inc (TSE:CIGI)
Corby Spirit and Wine Ltd (TSE:CSW.A)
Docebo Inc (TSE:DCBO)
Electrovaya Inc (TSE:EFL)
Extendicare Inc (TSE:EXE)
Fairfax Africa Holdings Corp (TSE:FAH.U)
Firstservice Corp (TSE:FSV)
Foraco International SA (TSE:FAR)
GFL Environmental Inc (TSE:GFL)
Globex Mining Enterprises Inc (TSE:GMX)
GMP Capital Inc (TSE:GMP)
Great Canadian Gaming Corp (TSE:GC)
Innergex Renewable Energy Inc (TSE:INE)
Intact Financial Corp (TSE:IFC)
Intermap Tech Corp (TSE:IMP)
Intertape Polymer (TSE:ITP)
Ivanhoe Mines Ltd (TSE:IVN)
Kinaxis Inc (TSE:KXS)
Labrador Iron Ore Royalty Corp (TSE:LIF)
Liberty Gold Corp (TSE:LGD)
Lundin Gold Inc (TSE:LUG)
MCAN Mortgage Corp (TSE:MKP)
Minco Silver Corp (TSE:MSV)
New Pacific Metals Corp (TSE:NUAG)
Nexgen Energy Ltd (TSE:NXE)
Niocorp Developments Ltd (TSE:NB)
Nomad Royalty Company Ltd. (TSE:NSR)
Northland Power Inc (TSE:NPI)
Nuvei Corporation (TSE:NVEI)
Open Text Corp (TSE:OTEX)
Parkland Corp (TSE:PKI)
Pinetree Capital Ltd (TSE:PNP)
Quebecor Inc (TSE:QBR.B)
Real Matters Inc (TSE:REAL)
Resverlogix Corp (TSE:RVX)
Seabridge Gold Inc (TSE:SEA)
Senvest Capital (TSE:SEC)
Sprott Inc (TSE:SII)
Stantec Inc (TSE:STN)
Steppe Gold Ltd (TSE:STGO)
Sulliden Mining Capital Inc (TSE:SMC)
SunOpta Inc (TSE:SOY)
Tecsys Inc (TSE:TCS)
TFI International Inc (TSE:TFII)
TMX Group Ltd (TSE:X)
Toromont Industries Ltd (TSE:TIH)
Urbana Corp (TSE:URB.A)
Vecima Networks Inc (TSE:VCM)
Victoria Gold Corp (TSE:VGCX)
Vista Gold Corp (TSE:VGZ)
Wesdome Gold Mines Ltd (TSE:WDO)
Wheaton Precious Metals Corp (TSE:WPM)
Winpak Ltd (TSE:WPK)
WSP Global Inc (TSE:WSP)
Here's a table with a bit more detail on each company for you to pick through too:
Keen observers will note that there aren't any quantitatively rated narrow moat stocks from the TSX Venture Exchange. Instead, all 75 stocks are traded on the more mainstream Toronto Stock Exchange (TSX).
This is by design.
There were actually 67 stocks trading on the TSX Venture exchange that Morningstar had quantitatively rated with narrow moats. 
I looked into these and ultimately, I didn't think it was responsible to list them in this article as most of them were penny stocks. 
In fact, 50 of the 67 stocks traded for less than $1 as of November 25, 2020. I consider these types of investments speculative. This made me even warier of Morningstar's quantitative moat ratings.
Bottom line: Take quantitative moat ratings with a grain of salt. The analyst moat ratings appear a lot more reliable.
Some Surprises That Didn't Make The List
If you were surprised that a company didn't make it on to the Narrow moat list, it's likely because Morningstar has it rated as no-moat instead of Narrow. Or, maybe it's considered a wide moat.
So, what's the difference between a wide, narrow, and no moat rating?
The wide, narrow and no-moat ratings reflect how sustainable a competitive advantage is. In other words, how long will this competitive advantage last?
Wide moat = +20 years
Narrow moat = 10-19 years
No moat = 0-9 years
Now that you know the main difference between these ratings, let's look at some of the surprises I noticed while doing research for this article.
Utilities & Hydro One 
Most utility companies are considered narrow-moat stocks. The narrow-moat comes from regulated operations in service territory monopolies and efficient scale advantages.
Like telecoms, it's regulation for the public good that typically prevents them from reaching a wide moat rating, but at the same time, these regulations also help maintain a narrow-moat.
Companies like Fortis, Canadian Utilities, Emera, and Algonquin Power & Utilities all have narrow moat ratings, so I was surprised by a no-moat rating for Hydro One Ltd (TSE:H).
Morningstar had this to say regarding Ontario's largest electricity provider:
"We don't assign Hydro One a moat. Typically, service territory monopolies and efficient scale advantages are the primary sources of economic moat for regulated utilities. State and federal regulators typically grant regulated utilities exclusive rights to charge customers rates that allow the utilities to earn a fair return on and return of the capital they invest to build, operate, and maintain their distribution networks. 
However, Hydro One doesn't share these advantages given the influence of Hydro One's largest shareholder, the province of Ontario. In July 2018, the province removed the full board of directors, which led to the resignation of the company's CEO and numerous members of its executive team. Constraints on executive pay are another indicator of government meddling in the company's affairs, and could prevent the new board from attracting talent. We don't have confidence that the province of Ontario won't pass legislation at the expense of shareholders. The threat of material value destruction from these stakeholders is higher than that of the companies U.S. and Canadian regulated peers."
What about Smaller Canadian Banks?
Royal Bank (TSE:RY) and TD (TSE:TD) get the coveted wide moat ratings, leaving narrow moats for Bank of Nova Scotia, BMO, CIBC, and National Bank.
But what about the smaller banks?
I'll admit I wasn't too surprised that Laurentian Bank (TSE:LB) was rated a no moat bank as it cut its dividend in 2020. Businesses that do well don't cut their dividend.
Canadian Western Bank (TSE:CWB) is also rated as "no moat". I don't really know why I was surprised by this considering how daunting it must be to compete with the "Big 6".
Usually, when a company can increase its dividend each year for more than two decades it's due to some sort of competitive advantage. Turns out Canadian Western is a no moat stock despite its long dividend growth streak.
Bottom line: The smaller Canadian banks don't have moats.
Canadian Life Insurance Companies Don't Have Moats
Sun Life (TSE:SLF), Manulife (TSE:MFC), and Great-West Life (TSE:GWO) are considered the Big 3 Canadian life insurers.
Despite them having about 80% of the market, all three have no-moat ratings.
In fact, Morningstar had this to say regarding the tricky life insurance industry:
"In general, life insurers do not benefit from favorable competitive positions. Industry competition is fierce, and the products are essentially commodities. Furthermore, insurers do not know their cost of goods sold for a number of years, allowing them to underprice policies without knowing it. Managers may have an incentive to chase growth without regard for profitability, a cycle in which competitors are forced to match low prices or risk losing business. We believe it's especially difficult to develop a moat in life insurance, as underwriting risks are easily understood and contract structures are largely homogeneous. As an example of how life insurance is commoditized, there are plenty of websites that allow prospective buyers to compare rates for life insurance policies with similar terms. We acknowledge that certain adjacent business such as asset management or retirement services (defined-contribution recordkeeping, for example) can have narrow moats, but on a consolidated basis, these businesses are rarely large enough for us to have confidence that they will result in overall returns on equity exceeding cost of equity."
Not All Pipelines Are Created Equal
Enbridge (TSE:ENB)

has a wide moat.

TC Energy

and

Pembina Pipeline

have narrow moats.

Inter Pipeline (TSE:IPL)

and

Keyera (TSE:KEY)

are rated as no-moats.
Canadian Grocery Market is Too Competitive For A Moat
Metro (TSE:MRU), Empire (TSE:EMP.A), and Loblaws (TSE:L) all have no moat ratings from Morningstar.
FYI
Metro has food stores under the Metro, Metro Pluc, Super C and Food Basics

banners. 

Empire owns the Sobeys

supermarket

chain, but are also

known

for Safeway, IGA, Foodland, Farm Biy, FreshCo, Thrifty Foods and

Lawton's

Drug. 

Loblaws also owns

a bunch of other grocery

store chains like

Atlantic

Superstore, No Frills, Real

Canadian

Superstore, and T&T.
Bonus: The 9 Canadian Wide Moat Stocks
At the beginning of the article, I mentioned that there were 9 Canadian wide moat stocks.
I know you are probably curious about them, so I've listed all 9 stocks here:
6 Wide Moat Stocks from Morningstar Analyst Ratings
Canadian National Railway Co (TSE:CNR; NYSE:CNI)
Canadian Pacific Railway Ltd (TSE:CP; NYSE:CP)
Enbridge Inc (TSE:ENB; NYSE:ENB)
Royal Bank of Canada (TSE:RY; NYSE:RY)
The Toronto-Dominion Bank (TSE:TD; NYSE:TD)
Waste Connections Inc (TSE:WCN; NYSE:WCN)
3 Wide Moat Stocks From Morningstar Quantitative Ratings
Remember, these are the less reliable ratings.
Constellation Software Inc (TSE:CSU)
Enghouse Systems Ltd (TSE:ENGH)
Franco-Nevada Corp (TSE:FNV; NYSE:FNV)
For a more in-depth look at the 9 wide moat Canadian companies check out these articles: 
2 Additional Resources
Besides the other articles in my wide moat series, here are two additional resources you might find helpful.
1. Canadian Dividend All-Star List (CDASL)
A long dividend streak doesn't necessarily mean the company has a wide or narrow moat, but it can be an indication of a high-quality company.
The Canadian Dividend All-Star List (CDASL) is a free excel spreadsheet that I email to my subscribers every month. It contains stock information on Canadian companies that have increased their dividend for 5+ years in a row.
Download CDASL
Subscribe to the Dividend Growth Investing & Retirement newsletter and you'll be emailed the download link for the most recent version of the Canadian Dividend All-Star List (CDASL).
2. Morningstar
I used Morningstar's moat ratings for this article, so check your online broker to see if they provide Morningstar access. Most Canadian brokers provide it free. 
For a list of Canadian brokers that provide free Morningstar access as well as some other ways to find wide moat stocks, check out the details in this article: 3 Ways to Find Wide Moat Stocks
Summary
I used Morningstar to find all of Canada's narrow moat stocks.
They provide two types of moat ratings: 
Analyst (real person) ratings, and 

Quantitative ratings (a computer formula figures it out instead of a person).
The quantitative ratings are less reliable than the analyst ratings.
Here's the full table of all 100 Canadian narrow moat stocks:
A number of sectors and industries are covered, but I was quick to spot some well-known banks, utilities, and telecoms.
Some companies that I thought would be considered Narrow moat, like the Big 3 Canadian life insurance companies (Sunlife, Manulife & Great-West Life) and major Canadian grocery store chains, turned out to have no moats.
Were you surprised by any companies that didn't make the narrow moat list?
Don't forget to check out my other wide moat articles:
Newsletter Sign-Up & Bonus
Have you enjoyed our content?
Then subscribe to our newsletter and you'll be emailed more great content from Dividend Growth Investing & Retirement (DGI&R).
BONUS: Subscribe today and you'll be emailed the most recent version of the Canadian Dividend All-Star List (CDASL).
The CDASL is an excel spreadsheet with an abundance of useful dividend screening information on Canadian companies that have increased their dividend for five or more years in a row.

The CDASL is one of the most popular resources that DGI&R offers so don't miss out!