Dividend Growth Investing & Retirement is supported by its readers through donations and affiliate links. If you purchase through a link on my site, I may earn a commission. Thanks! Learn more.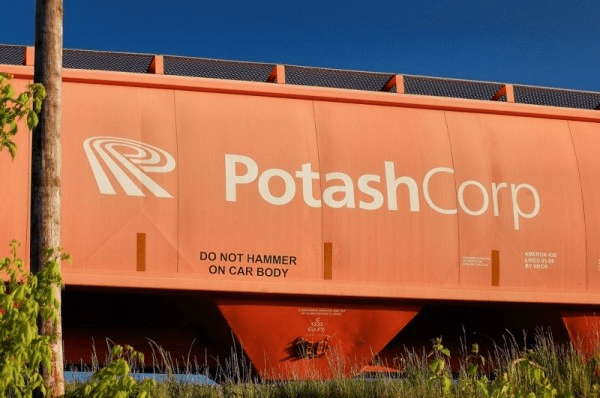 One of the reasons I started this blog was to educate others and to improve my own investing. This is why I like to keep my readers up to date on my portfolio changes. For the most up to date portfolio changes follow my twitter account as I will usually tweet first and then follow-up with a blog post.
By keeping an open book of my portfolio and changes to it, I hope to generate discussion so others can see how I put my investing philosophy into practice. With this post specifically I'm hoping to generate some serious discussion as I'm a little worried that I've gone yield chasing and diversified just for the sake of diversifying. I'll let you be the judge…
Potash Corporation of Saskatchewan
I purchased Potash Corporation of Saskatchewan [TSE:POT Trend] twice in September. The first purchase was on September 25, 2015 for a price of $27.99 followed by another purchase on September 29, 2015 for $27.49.
Potash Corporation of Saskatchewan is the world's largest fertilizer company measured by capacity. The company's main focus is potash, where it is the global leader in installed capacity with a roughly 20% share. Potash is also a player in the nitrogen and phosphate industries, ranking third in global production of each nutrient. The company pays a quarterly dividend of $0.38 US, but it is converted to Canadian for shareholders resident in Canada using the exchange rate applicable on the dividend record date. Based on today's exchange rate, Potash Corporation of Saskatchewan sports a dividend yield of 7.5%. While a high yield is appealing, this is very high for a basic materials company.
One of my worries with this purchase is that I have gone yield chasing and have not emphasized dividend growth enough. Potash Corporation of Saskatchewan has increased its dividend for 4 consecutive calendar years and has 5 and 10 year dividend growth rates of 60.0% and 37.4% respectively. These dividend growth rates are deceiving because the company has increased the dividend at the expense of its payout ratio. The company used to pay around 10% of its earnings out in dividends, but then in 2012 it started increasing its dividend at a higher pace than earnings. Currently the annual dividend is $1.52 and analysts are estimating EPS of $2.17 for 2015/12. This works out to a payout ratio of 70%. This is a huge jump and why I would not expect the same level of dividend growth going forward. In fact, I wouldn't be surprised to see no dividend growth in the near to mid term.
So why, as a dividend growth investor, did I buy shares?
Three reasons…
First, the shares seem cheap. Morningstar currently has them as a 4 out of 5 star stock.
Second, I expect dividend growth in the long term. Yes the payout ratio is high at 70%, but the company has a healthy balance sheet and strong financial strength (ValueLine gives them an "A+" for financial strength). They are in the process of winding up some major capital intensive projects so they will have more cash on hand to pay the dividend. The company has a history of either keeping the dividend steady or increasing it and they have never cut the dividend since they first started paying the dividend in 1990. In 1999 they switched from a Canadian dollar dividend to a US dollar dividend and it looks like they cut, but when you factor in the exchange rate, they didn't. I think that the company may be heading into a period of time where the dividend is held steady for a few years, but in the long term I expect this to be a dividend growth stock. In the meantime I'm collecting a pretty hefty dividend.
Third, I was looking to diversify into the basic materials sector with a wide moat stock. It is very difficult to find wide moat stocks in the basic materials sector because of the nature of basic material companies. Most of these companies are price takers and so earnings fluctuate based on the price of a commodity. I'm currently only aware of two wide moat basic materials companies that could be considered dividend growth stocks: Potash Corporation of Saskatchewan and Praxair [NYSE:PX Trend] (If you know of any others please let me know). I took this as an opportunity to diversify into a new sector as my current portfolio is pretty heavy in financials and energy right now. That said, I don't think I want to allocate more than 5% of my portfolio to the basic materials sector as they typically don't make great long term dividend growth stocks. Currently my Potash purchases make up roughly 2.8% of my portfolio.
Good or Bad Idea?
So what do you think of my Potash purchase? Do you think it is a good investment, or have I fallen for some classic traps like yield chasing and diversifying just for the sake of diversifying?
Photo credit: Rob Swatski / Foter.com / CC BY-NC
Newsletter Sign-Up & Bonus
Have you enjoyed our content?
Then subscribe to our newsletter and you'll be emailed more great content from Dividend Growth Investing & Retirement (DGI&R).
BONUS: Subscribe today and you'll be emailed the most recent version of the Canadian Dividend All-Star List (CDASL).
The CDASL is an excel spreadsheet with an abundance of useful dividend screening information on Canadian companies that have increased their dividend for five or more years in a row.

The CDASL is one of the most popular resources that DGI&R offers so don't miss out!