Dividend Growth Investing & Retirement is supported by its readers through donations and affiliate links. If you purchase through a link on my site, I may earn a commission. Thanks! Learn more.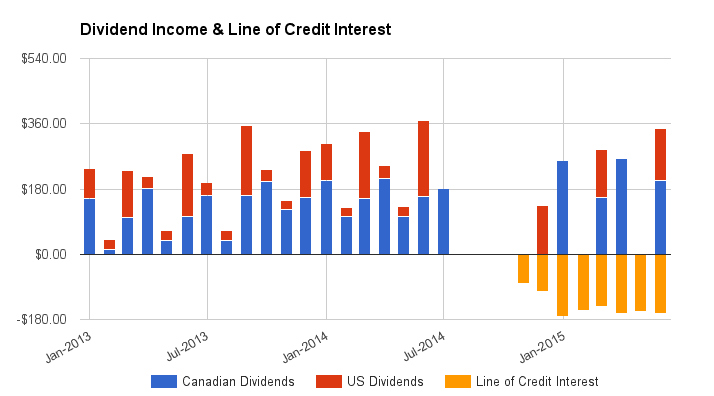 "Dividends have been a key and underrated part of North American markets' total returns over the decades. As the British used to say: 'Milk from the cows, eggs from the hens. A stock, by God, for its dividends.' "

David Chilton, The Wealthy Barber Returns
My retirement plan involves collecting an increasing stream of dividend income to help pay for retirement expenses and inflation. While I am a ways off from reaching my long term financial goals, I find it encouraging to track and witness my monthly dividends grow over time. From the quote above it sounds like the British are fans of this too.
May 2015 dividend income
No dividends received in the month.
Line of Credit Interest – $159.05
June 2015 dividend income
June Canadian Dividend Income
Total June Canadian Dividend Income – $202.80
June US Dividend Income
Total June US Dividend Income – $142.80
Line of Credit Interest – $164.34
I'm in the process of building up my portfolio and currently I don't have any companies that pay dividends in February, May, August, and November. Because of this I didn't have any dividends paid out in May. I recently purchased Home Capital Group Inc. [TSE:HCG Trend] and Exxon Mobil [XOM Trend], but that will add more dividend income to March, June, September and December. My first dividend payment from these companies will come in September as I purchased them too late for the payment in June. As the portfolio grows and I add new positions I expect the dividend income to smooth out from month to month. In the meantime I'm not too worried about it as I'm not currently living off the dividend income, but instead reinvesting the dividends in new or existing positions.
Related articles: Bird Poop & Portfolio Update: Home Capital Group Inc. Purchased & Portfolio Update: Exxon Mobil Corp. Purchased
Since my last dividend income update IBM increased their dividend 18% and Canadian Western Bank increased their dividend 5% for the second time in the past year. I saw an increased payment from both these companies in June. Always nice to see that the plan is moving along as expected.
For the most up to date chart check the dividend income page. To see a list of the companies currently in my portfolio check out my portfolio page.
What do you think of my progress so far?
Newsletter Sign-Up & Bonus
Have you enjoyed our content?
Then subscribe to our newsletter and you'll be emailed more great content from Dividend Growth Investing & Retirement (DGI&R).
BONUS: Subscribe today and you'll be emailed the most recent version of the Canadian Dividend All-Star List (CDASL).
The CDASL is an excel spreadsheet with an abundance of useful dividend screening information on Canadian companies that have increased their dividend for five or more years in a row.

The CDASL is one of the most popular resources that DGI&R offers so don't miss out!